Bolts & Fasteners
Showing 1–12 of 226 results
I believe we have the Biggest and Best selection of Fasteners in the country for the A-Body Buick's! Our Bolt Kits can supply about 90% of all the Fasteners needed to restore these cars properly. I don't have all the individual Fasteners listed yet so if you need something you can't find feel free to contact me. I will eventually list all of our fasteners as time permits! If it's listed in our Master Bolt Kits then I have it in stock!
.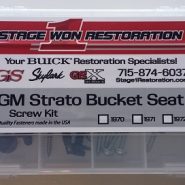 # 1 Bucket Seat Hardware Kit
Best Bucket Seat Hardware Kit on the Market! Fits 1969 - 1972 GM A-Body Bucket Seats Kit Includes the following:
6)  Bucket Seat Mounting Nuts (Gold Cad as the factory used)
2)  Bucket Seat Mounting Bolts
10) Seat Back Mounting Screws
12) Side Skirt Mounting Screws
4)  Seat Lock Strap Bolts
8)  Headrest Lock Retainer Screws
4)  Bucket Seat Lock Assembly Mounting Bolts (Top)
4)  Bucket Seat Lock Assembly Mounting Screws (Middle)
4)  Bucket Seat Lock Assembly Mounting Screws (Bottom)
8)  Bucket Seat Track Mounting Bolts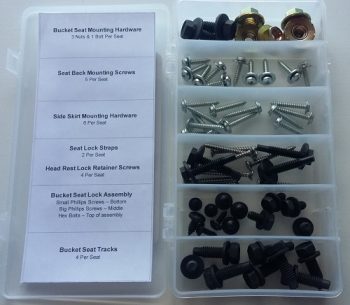 Stage 1 Restoration
 has the most hardware of any vendor for the 1970 – 1972 GS / GSX & Skylark Models. Don't see what you need ?  Give me a call, we probably have it! Photo's below are a sampling of what you can expect in this kit: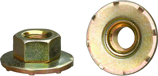 Note:
The Factory Screws with the spiral affect in them that holds the Chrome Locking Covers in place are not reproduced. It's a very unique screw so you'll have to use originals when possible.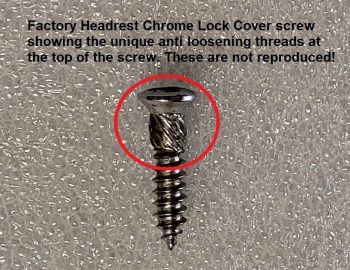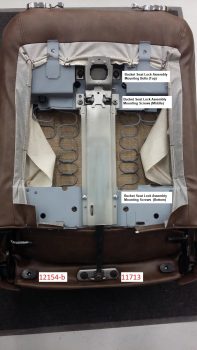 $

42.00
Add to cart