Here's a little bit about Todd – the owner of Stage Won Restoration: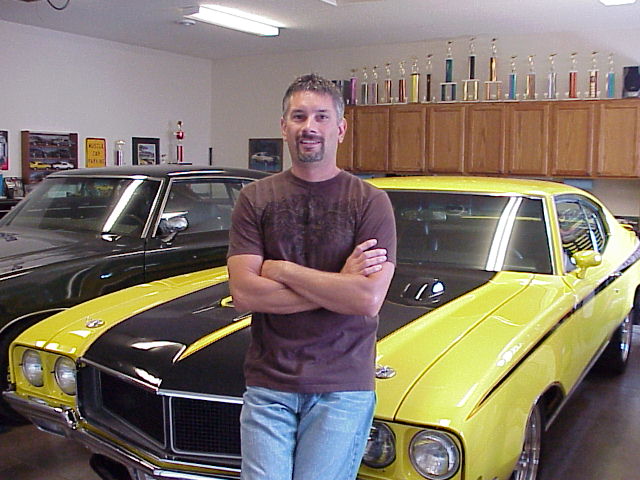 My interest in Buick's started as a teenager. My Mom had a 1972 Skylark that was in Mint Condition. We had a detail shop here in town called "Tidy Car" and she would take that car in once a month to have it detailed.
I believe that's one of the reasons I've always liked my stuff to be in mint condition. I raced BMX bikes as a teenager and was also on a Freestyle team that performed stunt shows at fairs, roller rinks, festivals etc…..(Note: If you like BMX be sure to check out my BMXDreamBikes.com website!) I was the guy that always had a spotless BMX Bike. I would clean every inch of that bike including in between each and every spoke in the wheels. I was also the guy that had a spotless tool box with all the tools in there perspective spot so I knew right where to find it the next time I needed it. My BMX career eventually landed me a job at a Cycle Dealership where I spent 15 years assembling Bicycles, Motorcycles, ATVs, Snowmobiles etc. There was something about assembling brand new (Clean) Machines that stayed with me into the Muscle Car restoration business. I've always wanted everything I assembled or restored to be Mint! I believe that's also what lead me to round up as many of the correct fasteners as possible for these cars. I literally wanted every nut and bolt to be correct (and clean) as possible. The Fasteners would eventually land us where we are today . . .
I worked at the Cycle Dealership from 1985 to 2000. In 1999 I launched my Die Cast Muscle Cars.com website. At that time I also left the Cycle Dealership and started working at Autokraft here in Eau Claire which is a high end Muscle Car Restoration and Race shop.
The Die Cast Muscle Car business started booming in the mid 2000's which led me to take a break from Autokraft and just pursue my website full time. Fast forward to 2015 and Autokraft was also growing and was in the middle of building a new shop.
The Die Cast business had slowed down a bit so the offer was there to work again at Autokraft but at a part time level so I could still run my website which was now beginning to morph into a Restoration Parts site as well.
Over the years I've owned over 30 Buick Gran Sports and a couple Grand Nationals. I've been lucky enough to have some of these cars in Magazines, Calendars & Books. Just recently one of the cars we restored at Autokraft was replicated in 1:18 Scale Die Cast.
I think my love for these cars shows in my work and my dedication to the Parts Industry. I've worked with AMK and Lectric Limited to bring a few parts to market and hoping to have an impact for future parts as well.
Thank you for checking out my website. I hope I can be a part in making a show Winner out of your Buick!
Todd Miller / Stage Won Restoration