Trunk Items
Showing 1–12 of 30 results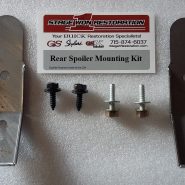 GSX Rear Spoiler Mounting Kit (Hardware & Brackets)
1970 - 1972 Rear Spoiler Hardware Mounting Kit
Kit includes the following:
2 Mounting Studs  (Self Tapping on Spoiler Side)
2 Gold Cad Mounting Nuts
2 Self Tapping Mounting Hex Screws
2 Rear Spoiler Mounting Brackets
This is by far the best kit on the market in terms of accuracy!
Note: 
Both the Nuts and the Hex Screws require a 7/16" Socket
Note:
  This kit is designed to mount a Factory or Reproduction Spoiler that has not had it's mounting holes altered! (Or enlarged)
Stage 1 Restoration
 has the most hardware of any vendor for the 1970 – 1972 GS / GSX & Skylark Models. Don't see what you need ?  Give me a call, we probably have it!
$

50.00
Add to cart