Restoration Tips & Tools
Showing 1–12 of 23 results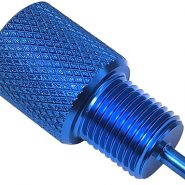 Brake Proportioning Valve Bleeder Tool
Brake Proportioning Valve Bleeder Tool can lock the low pressure exhaust valve to make your braking system bleeding easy and avoid the combined valve from tripping.

APPLICATION -- Compatible with various popular non-adjustable GM combination valves, Disc/Disc Disc/Drum PV2 & PV4, AC Delco 172-1353, 172-1371 brake proportioning valves.

HIGH QUALITY -- Made of aluminum (NOT PLASTIC) A must have tool for bleeding brakes.

HOW TO USE -- Remove the brake light warning switch on your Proportioning Valve and replace it with this tool. When Brakes are bled re-install the warning switch.
.
$

10.00
Add to cart