Restoration Books
Showing all 6 results
View cart
"GSX By the Numbers 1970 – 1972" has been added to your cart.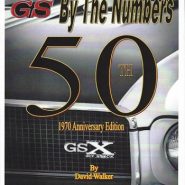 50th Anniversary Edition – GSX
1970 Buick GSX 50th Anniversary Edition contains the information for the 1970 GS 455 / GS 455 Stage 1 and GSX identification. Includes stamped, cast and part numbers needed to identify a 1970 GS plus what to look for in identifying the characteristics of the GSX.
$

55.00
Add to cart