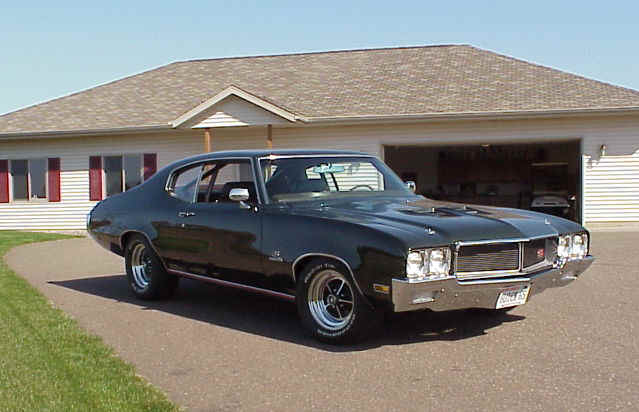 One of our completed projects is a 1970 Buick GS Stage 1 that will be built for the street as well as the strip.
Motor Trend Magazine tested these cars back in 1970 and back then they ran a 13.38 @ 105 MPH. That quarter mile time placed the 1970 Stage 1 GS as one of the quickest American Production cars ever built. A couple guys have actually built these cars to run 10 Second quarter mile times in "Stock Appearing" trim. Stock Appearing simply means the car will look like it did the day it rolled off the showroom floor. This car will be built using those
same guidelines. No after markets parts will be visible in the engine bay or the interior. Ours will even be running the Factory Quadrajet Carburetor and Cast Iron Exhaust Manifolds!
Update:
Best E.T. so far with a Factory Stock-Low Compression Motor:
12.72 @ 102 MPH 1.73 60 Foot Time
Non Stage 1, No Port work, 8.5 to 1 Compression, Small Cam
I feel the car would easily run 11's with a 1970 Spec Stage 1 Motor and Port work.
Update #2:
This car has been sold to a good friend and has now received an all Aluminum Stage 2 Motor with Fuel Injection.
1970 GS Stage 1 Specs
Motor: 1971 Buick 455 (Non Stage 1)
Block: GM – 1231738
Heads: GM – 1237661 – Standard Size Valves – Not Stage 1
Intake: GM – 1236403
Pistons: GM 8.5 to 1 Compression – 1237454
Exhaust Manifold (Left Side): GM – 1233451
Exhaust Manifold (Right Side): GM – 1383648
Timing Cover: GM – 1230345
Fan Pulley: GM – 1238156
Crank Pulley: GM – 1235779
Carb: Quadrajet # 7041540 MF
Distributor: GM – 1112077
Cam: TA 288-98H
Starter: RobbMC Performance Lightweight Mini Starter
Tranny: Turbo 350 (Behind Baseline Motor)
Converter: Hughes 3,000 Stall (Behind Baseline Motor)
Driveshaft: Stock GM
Rear End: 12 Bolt / Moser Engineering
Gears: 3:90 Ratio / Auburn Posi Unit
Wheels: Factory 15″ Buick Rallye Wheels
Front Tires: BF Goodrich Radial TA's 235/60R15
Rear Tires: Mickey Thompson Drag Radials 275/60R15
Cooling System / Fuel System:
Radiator: Factory Appearing Aluminum Reproduction
Fuel Pump: Factory Stage 1
Fuel Pick Up Tube: RobbMC Performance 1/2″
Fuel Tank: Factory GM
Exhaust: Torque Tech 2.5″ Aluminized Mandral Bent w/ X-Pipe
Mufflers: Dyno Max
Manifolds: Factory Cast Iron – Ported by GHP
Front Brakes: Wilwood Light Weight Discs
Rear Brakes: Wilwood Light Weight Discs
Rear Control Arms (Upper) : Factory GM
Rear Control Arms (Lower) : Factory GM (Boxed)
Front Shocks & Springs: Factory GM
Rear Shocks & Springs: Factory GM
Seats: Factory Buckets
Shifter: Factory Floor Shift
Gauges: Factory – Oil, Temp, & Fuel
Tachometer: Factory
Aftermarket Gauges: Auto Meter / Temp & Oil (Hidden fromView)
Steering Wheel: Factory GS Sport Wheel (3 Spoke)
Roll Cage: 6 Point Cro-Moly