GS Hood Seal Plates (1970-71)
A nice reproduction of the 1970 / 1971 Hood to Air Cleaner Seal Plates.
These mount on the Bottom Side of the GS hood and mate to the Ram Air Cleaner Foam Seals.
Only available at Stage 1 Restoration!!  –  Made in the USA
Note: If you purchased these through any other vendor you probably have the 1969 version which is not correct!
Fits 1970 – 1972 Models but correct for 1970 & 1971 (Made from ABS Plastic)
These are brand new to the market!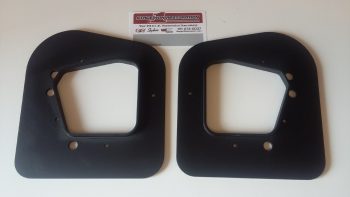 Be sure to check out our GS Hood Vent Hardware Kits also