Headlight Bezel Nut & Screw Kit
16 Pc Headlight Bezel Nut & Mounting Screw Kit
Fits 1970 – 1972
A good tip for installing the Bezel Nuts is to install them in the Core Support and then with a 1/8″ Punch gently tap the pin in a tad giving you some room to get the screw started. Once the screw starts to bite it will be "Self Threading" and will push the pin through a bit more which in turn holds the Bezel Nut into the Core Support Securely.
Install the Bezel Nut into the Core Support before tapping the pin.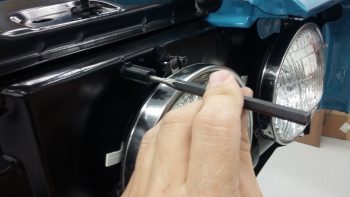 The key here is to Gently tap the pin in just enough so that the screw can start to "Self Tap" into the Bezel Nut.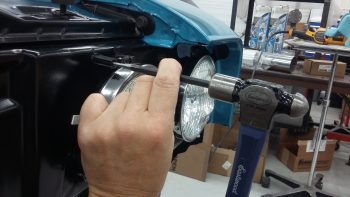 Stage 1 Restoration has the most hardware of any vendor for the 1970 – 1972 GS / GSX & Skylark Models.
Don't see what you need ?  Give me a call, we probably have it!