Bolt Kit – Timing Cover, Water Pump, Fuel Pump (455)
18 Pc Timing Cover, Water Pump & Fuel Pump Bolt Kit
This kit is designed to provide the Factory Style Bolts to mount your Timing Cover, Water Pump & Fuel Pump.
Since nobody reproduces the 4) LONG Timing Cover Bolts that pass through the Water Pump we're providing 4) Aftermarket Bolts that are the correct length.
Your only other option for those 4) LONG Bolts is to use originals (IF you have some)
Kit Fits 400, 430 & 455 Engines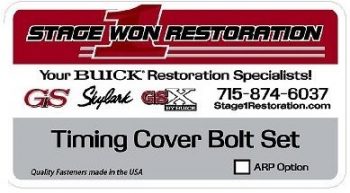 Stage 1 Restoration has the most hardware of any vendor for the 1970 – 1972 GS / GSX & Skylark Models.
Don't see what you need ?  Give me a call, we probably have it!
Photo Below shows the bolts included in this Kit. Water Pump & Timing Cover are not included.
The 4 circled bolts are the Long Bolts that we include as well.