Bolt Kit – Timing Cover, Water Pump, Fuel Pump (455) – ARP
18 Pc Timing Cover, Water Pump & Fuel Pump Bolt Kit
This kit is designed to provide the Factory Style Bolts to mount your Timing Cover, Water Pump & Fuel Pump.
Since nobody reproduces the 4) LONG Timing Cover Bolts that pass through the Water Pump we're providing 4) ARP Bolts that are the correct length and feature a Flange Bolt design as did the originals. Your only other option for those 4) LONG Bolts is to use originals (IF you have some)
Kit Includes:
5)  Timing Cover Bolts
4)  ARP Timing Cover Bolts (Long)
6)  Water Pump Bolts
1)  Alternator Adjustment Bracket Bolt
2)  Fuel Pump Bolts
Kit Fits 400, 430 & 455 Engines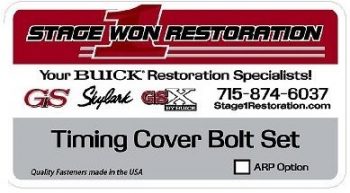 Photo Below shows the bolts included in this Kit. Water Pump & Timing Cover are not included.
The 4 circled bolts are the Long ARP Bolts that we include as well.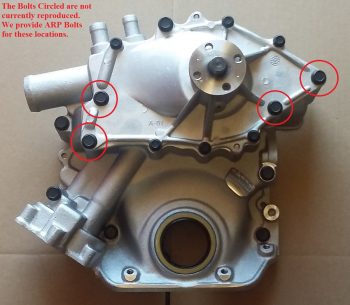 Stage 1 Restoration has the most hardware of any vendor for the 1970 – 1972 GS / GSX & Skylark Models.
Don't see what you need ?  Give me a call, we probably have it!