# 1 Front Clip Hardware Kit (Standard Thread)
Our Front Clip Kit gives you all the correct hardware to mount your Fenders, Inner Fenders, Core Support, Hood, Hood Hinges, Battery Tray & Radiator Top Plate.
Fits 1970 – 1972
Source – AMK & Stage 1 Restoration
Note:  Buick used standard 18 TPI bolts as well as Coarse thread bolts for the Inner Fenders and Core Support.
Please check to see what bolts your car requires!!  This Kit is for the Standard 18 TPI bolts!
We do have a coarse thread bolt kit as well.
The bolt below is what will come in this kit.  Standard 18 TPI  –  (Threads Per Inch)
Most Buick's built in Flint Michigan used the Coarse Thread Bolts shown below. We have a kit with these bolts also!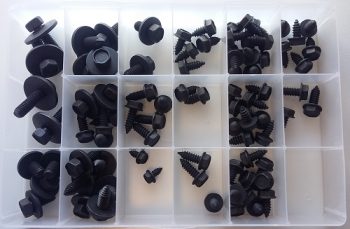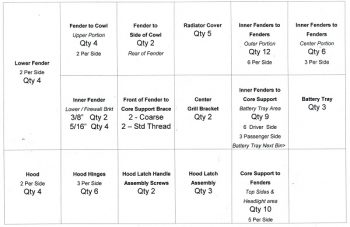 Stage 1 Restoration has the most hardware of any vendor for the 1970 – 1972 GS / GSX & Skylark Models.
Don't see what you need ?  Give me a call, we probably have it!
Photo's below are a sampling of what you can expect in this kit!