Control Arm Mounting Bolts – F41 Suspension
Correct Mounting Bolts, Nuts & Washers for the F-41 Traction Bars
This particular set utilizes a Flange Bolt as well as a Washer & Locking Nut.
Used on Cars with the F41 Suspension (Traction Bars) 1 Pair required Per Car
Photo Below Shows the Bolts as well as the Direction they're installed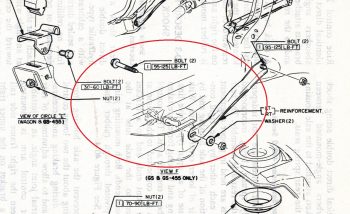 Stage 1 Restoration has the most hardware of any vendor for the 1970 – 1972 GS / GSX & Skylark Models.
Don't see what you need ?  Give me a call, we probably have it!