Ram Air Cleaner Hardware Kit
15 Pc Kit provides all the Hex Screws Necessary to assemble your Ram Air Cleaner Assembly (Black Phosphate Hex Screws)
12 Screws for the Left & Right Side Ram Air Assemblies and 3 Screws to mount the Assembly to the Air Cleaner Base.
Fits 1969 – 1972
Please Note: These are the Factory Screws designed to work on a Factory Air Cleaner than hasn't been previously altered with the wrong size screws!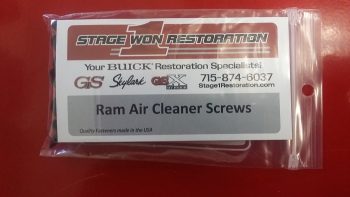 Stage 1 Restoration has the most hardware of any vendor for the 1970 – 1972 GS / GSX & Skylark Models.
Don't see what you need ?  Give me a call, we probably have it!