Hood Adjustment Bumper Kit
10 Pc Hood Adjustment/Bumper Kit
Kit Includes the following:
3) Front Adjustment Bumpers
3) Front Adjustment Retainer Nuts
2) Rear Adjustment Bumpers
2) Rear Adjustment Nuts
These are the CORRECT from Bumpers!!
Fits 1970 – 1972
Note: Once you have your hood height set you can use a 3/4″ wrench to tighten (clockwise) the Adjuster as shown in the photo!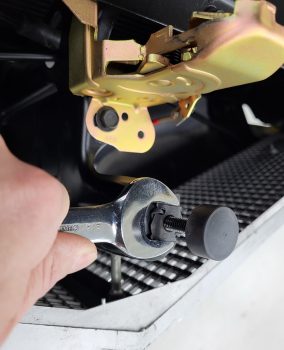 Stage 1 Restoration has the most hardware of any vendor for the 1970 – 1972 GS / GSX & Skylark Models.
Don't see what you need ?  Give me a call, we probably have it!
Key words . . .  Hood Bumpers, Hood Adjusters
.