Heater Hose & Radiator Hose Clamp Kit – Non A/C
Going by the Chassis Manuals these are the Correct Clamps used on the Heater Hoses,  Bypass Hose & Radiator Hoses on Buick V8 Engines.
This Kit provides 4)  5/8″ Clamps,  2)  3/4″ Clamps and 4) 2 1/16″ Tower Clamps for the Radiator Hoses.
Fits 1970 – 1972 Buick V8 Engines without A/C  –  (Correct for other Years also)
Source – Stage 1 Restoration – AMK – INL – Wittek
Note: The Tower clamps are made by Wittek which is who Buick sourced back in the day however we feel these clamps aren't quite the quality they use to be. For better results lubricate the entire clamp prior to installation. This helps the clamp tighten down properly. The lubrication eliminates some of the resistance during the tightening process. Make sure the bolt stays straight during the tightening process as well.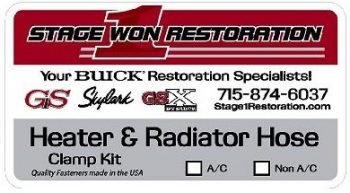 Photo below was taken from a 1970 Buick Chassis Manual.  (1971 & 1972 Correspond as well)