Heater Hose Clamps – Non A/C
Going by the Chassis Manuals these are the Correct Clamps used on the Heater Hoses and the Bypass Hose on Buick V8 Engines.
This Kit provides:
2)  Bypass Hose Clamps
2)  5/8″ Heater Hose Clamps
2)  3/4″ Heater Hose Clamps
Fits 1970 – 1972 Buick V8 Engines without A/C  –  (Correct for other Years also)
Photo below was taken from a 1970 Buick Chassis Manual.  (1971 & 1972 Correspond as well)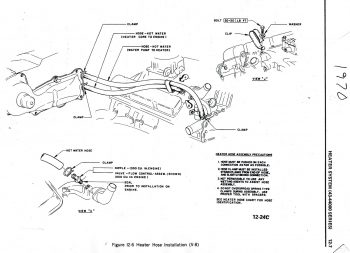 Stage 1 Restoration has the most hardware of any vendor for the 1970 – 1972 GS / GSX & Skylark Models.
Don't see what you need ?  Give me a call, we probably have it!