Engine Bay Wire Harness Fastener Kit (1970/71)
This Kit includes all the Wire Harness Fasteners needed in your Engine Bay
This kit is typically found on the 1970/71 Models that utilized Straps for the Engine Harness on the Firewall.
Buick Switched to a Plastic Clamp for the Engine Harness in 1972 as found in our other Kit.
Kit Includes:
2) Positive Battery Cable Clamps
2) Headlight Harness / Wiper Hose to Inner Fender Straps
3) Headlight Harness to Core Support Straps
2) Engine Harness to Firewall Straps
1) Blower Motor Wire Clamp + Mounting Screw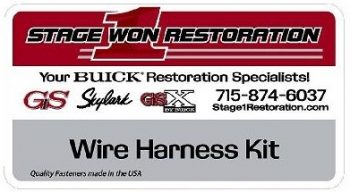 Stage 1 Restoration has the most hardware of any vendor for the 1970 – 1972 GS / GSX & Skylark Models.
Don't see what you need ?  Give me a call, we probably have it!