Bolt Kit – Transmission & Crossmember Bolt Kit
This Kit includes the correct bolts to mount the following:
Crossmember to the Frame 
Transmission to the Crossmember
Trans Mount to your Transmission
Transmission (Bell Housing) to Motor 
26 Pc Kit – Correct Bolts, Washers & Nuts
Source – AMK & Stage 1 Restoration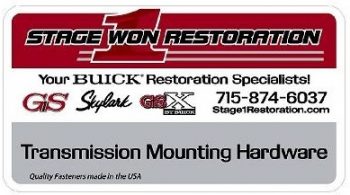 Stage 1 Restoration has the most hardware of any vendor for the 1970 – 1972 GS / GSX & Skylark Models.
Don't see what you need ?  Give me a call, we probably have it!