Motor Mount Bolt Kit – 455
455 Motor Mount & Frame Pad Bolt Kit
Fits 1970 – 1972 455 Engines  (probably works on 400 Engines as well)
Best Bolt Kits on the Market will be found here at Stage 1 Restoration!
Kit includes the following:
4) Motor Mount to the Engine Block Bolts
6) Motor Mount to the Frame Bolts
2) Motor to the Chassis Bolts & Nuts
1) Washer for Passenger Side Frame Mount
Note: The Washer that's included goes on the Passenger Side Frame Pad where the hole is slotted!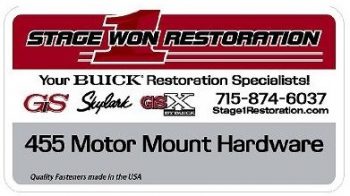 Stage 1 Restoration has the most hardware of any vendor for the 1970 – 1972 GS / GSX & Skylark Models.
Don't see what you need ?  Give me a call, we probably have it!