Tach Harness & Factory Grommet (Dash Harness Junction to Ignition Coil)
Reproduction Tach Harness to Ignition Coil Harness used on 1970 GS & GSX – Factory Grommet also included!
This wire runs from the inside of the firewall (Factory Junction in Dash Harness) to the Ignition Coil.  The Black end plugs into the remainder of the wiring in your Factory Dash Harness. (Typically used on 1970 GS/GSX)
Source – Lectric Limited
Please Note:  This is only 1/2 of the Tach Harness used by Buick. The other half is factory wired into your 1970 GS/GSX Dash Harness.
IF you are installing this into a Skylark or a 1970 – 72 GS/GSX and don't want to bother with the Factory Tach Harness please consider our other Tach Harness.
The Photo below shows the factory Tach Grommet location.  (Red Circle)
This Factory Hole is "Kitty Corner" of the Fuse Block hole and typically only found on actual GS Cars.
The Assembly Manual lists this hole as being 1.250″ in diameter.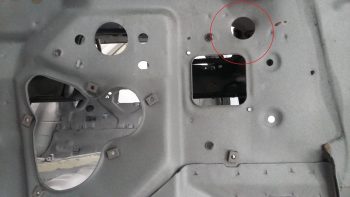 The Following Photos show the Factory Hood Tach & In Dash Tach Harness typically found in the 1970 GS & GSX Models that is built into the Dash Harness. If you have a Skylark or a 1971/72 GS/GSX you will NOT have this wiring and may want to purchase our other Tach Harness when adding an "In Dash Tach".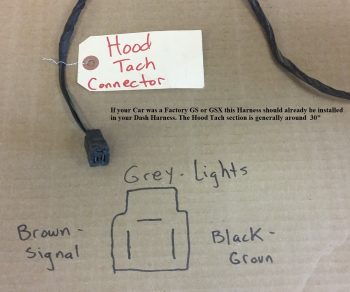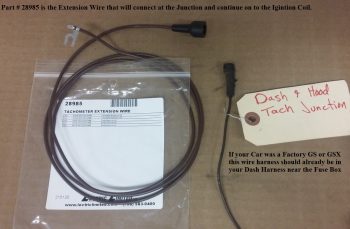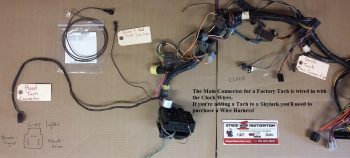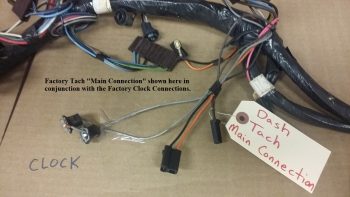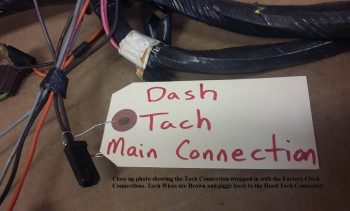 Note:  We use & sell  Lectric Limited  Products because they're Made in the USA using Factory GM Blue Prints!