Horn Cap Mounting Kit (Tilt)
This is a replacement Horn Contact & Horn Cap Mounting Kit for anyone using the 3 Spoke Rallye Steering Wheels (For Tilt Columns)
Kit Includes:
Cancel Cam
6) Steering Wheel to Hub Screws
3) Horn Cap Retainer to Hub Screws
Horn Cap Retainer (Contact)
Horn "Eyelet"
Horn "Spring"
Horn Spring Retainer (Insulator)
Note:  The Aluminum Plunger (Eyelet) is a tad long on purpose.  Trim to proper length for your application. Generally 3/4″ is just about right.
Note: For a Bigger Photo of this click here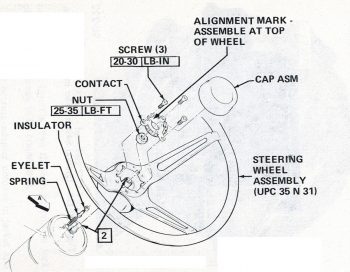 For a bigger picture of this Diagram please see Picture # 32 on our Factory Diagrams Page