Floor Shift Handle Insert (Plastic Version)
Reproduction of the Chrome Insert that's inserted into the Shift Handle.
This is the Plastic Version
Fits 1970 – 72
Note:   Unfortunately these do not fit perfectly without a little "Fine Tuning". We've found that most of these are a tad to short to properly snap into the shifter cradle. So if you purchase this item be aware that some fine tuning may be required to fit perfectly. If you don't want to go through this process I recommend trying to find a nice original piece. Otherwise if you simply open up the holes that the Tabs at the bottom fit into it will work much better. See photos below for more on this!
The Circled area shows the hole that needs to be "enlarged". In most cases you can simply drill this hole out to 5/16″. (It's currently a 1/4″ hole) The bigger hole allows for the Tabs on the Chrome Insert to lock in place.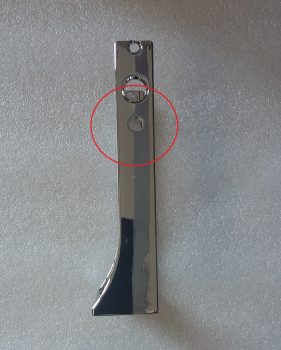 If needed you can also take a hand file or dremel tool and enlarge the hole towards the TOP! 
This will allow the Chrome Insert to Snap in to place easier.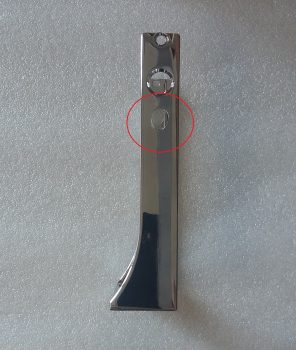 You're basically enlarging the holes so that the Shifter Insert Tabs will snap in to the Cradle better.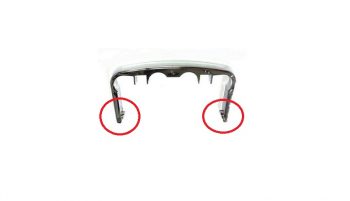 If you need the Correct Hardware for your Floor Shifter be sure to check out our Floor Shift Hardware Kit